17 mars 2014
Modèle cerise transformé en robe et élargi pour y broder des smocks.
T. 6 ans, très pour pour une demoiselle de 112 cm
Tissu : batiste noire, FDS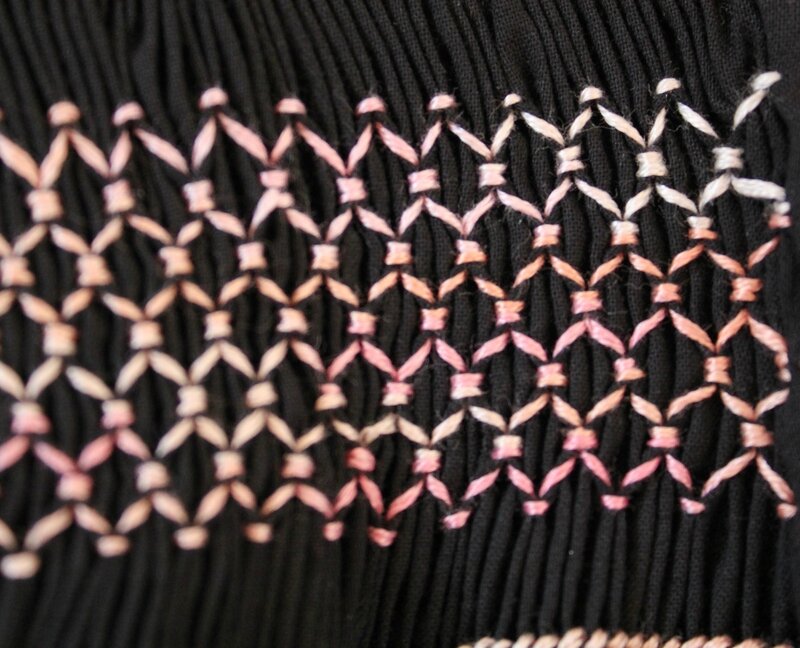 Modifications : tunique allongée en robe, devant recoupé pour être plissé.
Pour la technique de modification, n'hésitez pas à aller voir ici
et pour broder les smocks c'est par là
d'autres détails sur la robe par ici :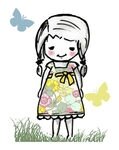 02 février 2014
Taille 6 ans pour une demoiselle de 110 cm, c'est parfait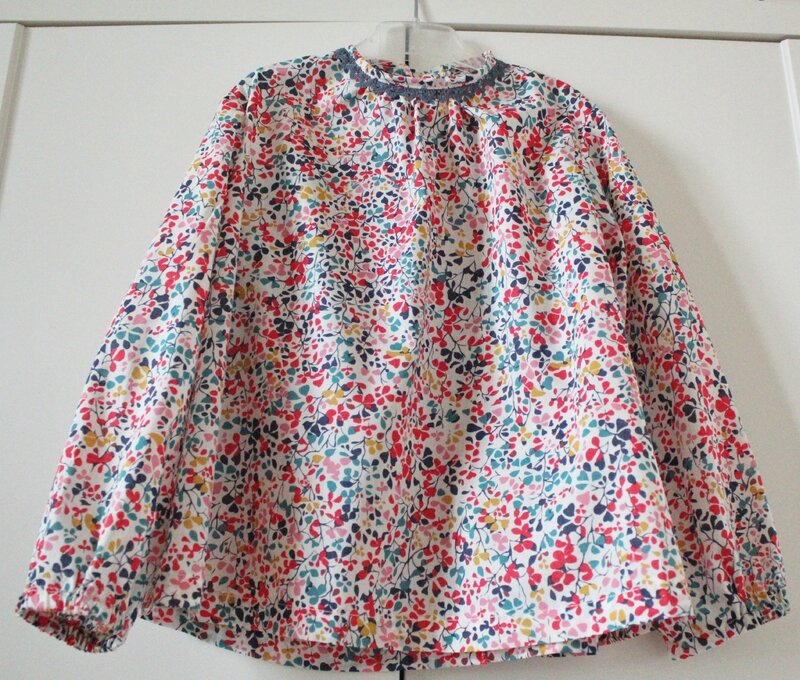 J'ai choisi ce patron car j'avais envie d'un patron simple avec des fronces pour mettre en valeur ce beau Liberty (à mon avis, un must have de l'été !)
Modification : ajout d'une dentelle à l'encolure
Tissu : Liberty Nina Taylor, Lolieshop
Jolis boutons, Ma Petite Mercerie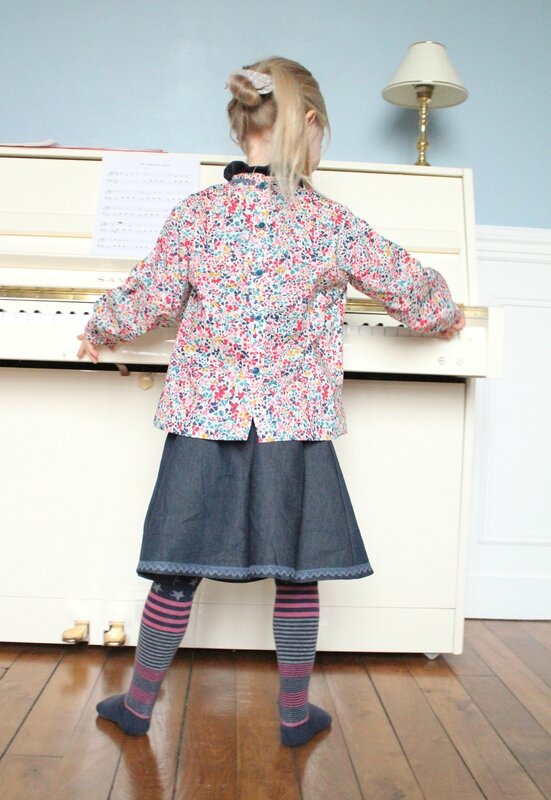 Petits détails et jupe maison à voir ici :
04 octobre 2012
J'avais lu sur ce blog qu'elle taillait bien, mais je la trouve bien trop grande cette tunique Cerise: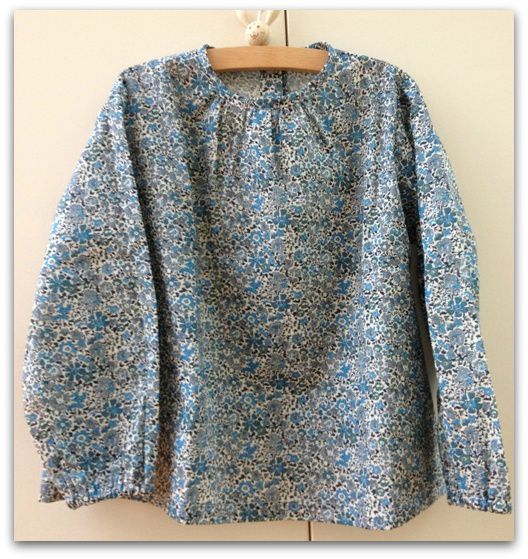 Taille: 4 ans pour un 4 ans habituel - trop grand!
Tissu: Liberty Dora bleu
Modifications: corps et manches rallongées (du coup, la tunique correspond à une taille 6 ans), pressions résine argentées au dos
Difficultés: aucune
Pour voir un peu plus de Liberty Dora, rendez-vous ici
05 novembre 2011
Une fois n'est pas coutume, voici un patron Citronille pour la nouvelle blouse de ma blondinette. Le patron et le tissu attendaient depuis une ou deux saisons (hum!), il était grand temps de les utiliser, il n'y aurait pas eu assez de tissu pour la taille au dessus. Alors voici une Cerise inspirée de la marque aux cerises, dans un madras d'hiver très doux de chez MT, cousue en taille 6 ans et à peine rallongée. Le modèle taille correctement, et me voilà motivée à tenter de nouvelles expériences citronillesques (??).

04 novembre 2010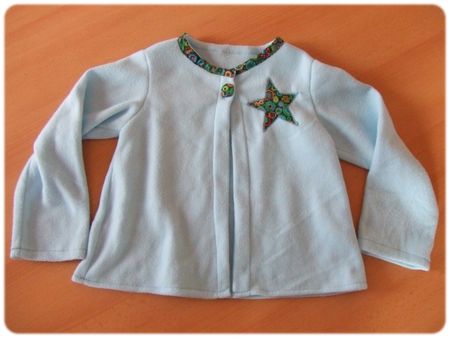 Ce modèle a été inspiré par le patron Cerise de Citronille.
Les modifications apportées sont les suivantes :
Dos coupé en un seul morceau

Devant coupé en 2 morceaux

Pas de fronce au niveau du col

Fermeture par un seul bouton
Vous pourrez retrouver cette veste et de nombreuses autres créations chez Bik-Nok .
03 mai 2010
Les cerises ! Et mes poulettes aussi ...

Taille de l'enfant ou de l'adulte et du patron : J'ai coupé en 4 ans et 8 ans pour mes filles qui ont 3 ans et demi, et 8 ans et demi.
Pourquoi j'ai pris ce modèle : J'aime beaucoup sa forme très simple.
Tissus utilisés et éventuellement sa provenance : un sublime voile de coton (même motif, deux coloris) de chez Lil Weasel
Ce qui m'a posé problème : tout ! Emmanchures, biais, ourlets, fronces, taille des élastiques, aucune explication n'est complète ...
Le truc à faire : suivre son bon sens ...
Le truc à ne pas faire : suivre les explications !
Les modifications que j'ai apporté : aucune, mais j'aurais du ... ah si, j'ai rallongé les élastiques de 4 cm pour les deux modèles.
Le prochain sera sûrement : Antonine, car même si je m'attends au pire, j'adore toujours autant les modèles de Madame Citronille !
à bientôt,
Laure, Des Filles et des Aiguilles
11 novembre 2009
Je voulais coudre une blouse pour aller avec un pantalon rouge que j'aime bien... J'ai choisi Cerise, et un tissu sympa accordé au velours du pantalon.
Aucune difficulté pour ce patron. J'ai utilisé des pressions Arbrinic cette fois pour le dos, celles qu'on utilise pour les couches lavables par exemple... un vrai bonheur, à poser, d'un point de vue ésthétique, mais aussi du confort (elles sont toutes en plastiques et assez peu épaisses)
truc à faire : mesurer la longueur des manches (j'ai raccourci un peu)
modifications : j'ai froncé juste sur le haut des manches et pas sur tout le tour.
Les détails sont ici! N'hésitez pas à me rendre visite :)
tutos de la pose des pressions et autres joyeusetés sur le blog de notre assoc' : Bobines & Bambins
05 novembre 2009
Une Cerise en 18 mois pour ma fille :
tissu les coupons Saint Pierre, patron Cerise de Citronille
Taille du patron : 18 mois (réduit donc)
Pourquoi j'ai pris ce modèle : classique, simple, et encore jamais cousu ;)
Tissus utilisés et éventuellement sa provenance : tissu coton les coupons Saint Pierre (il m'en reste 2m si ça intéresse quelqu'un ;))
Ce qui m'a posé problème : soutenir les manches... m'y fait pas à ça moi, doit y avoir un truc :)
Le truc à faire : rallonger le biais de quelques centimètres, mesurer les manches et mesurer l'élastique sur le modèle!
Le truc à ne pas faire :/
Les modifications que j'ai apporté : pas de boutons mais des pressions, pas d'élastique aux manches, modif des manches (raccourcies)
Le prochain sera sûrement : des pyj peut-être?
chez Nath
04 mars 2009
Taille de l'enfant et du patron : j'ai fait du 2 ans pour une petite fille qui vient d'avoir 2 ans.
Pourquoi avoir choisi ce modèle : pour rentabiliser un achat compulsif... et parce que ma fille avait besoin d'une blouse pour la crèche. Mais je suis ravie du résultat !
Tissus utilisés et éventuellement sa provenance : Vichy de Cloth House et imprimé de Michael Miller acheté sur LadyButton Fabrics.
Modifications : la petite poche Dick and Jane.

Ce qui m'a posé problème :la taille, une fois finie la blouse est un peu juste... pour une fois !

Le prochain : une Rose pour préparer l'été
14 janvier 2009
Une Cerise en largeur 2 ans et longueur 4 ans pour Elora 3 ans 1/2, 96 cm
Tissus: J'ai trouvé de la laine à coudre sur le marché et les broderies ont été trouvées sur le net grâce à ce forum
Aucunes modifications à part la taille et des pressions au lieu de boutons.