A propos de l'auteur Olympe G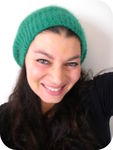 Email : Contactez-moi
Pays : France

Quelques mots sur moi
Jeune maman, créatrice de bijoux, je tricote et coud ! Je suis une junkie du travail manuel ! J'adore partager mes créas, coups de coeur et bons plans...
Mes centres d'intérêt
La Mode ! La Mode ! La Mode ! Les accessoires ( surpriiise !!) Le cinéma, la TV ( oui, j'assume total ! ), le thé, la caféine ( de préférence en soda, attention !), voyager, les potes, cuisiner, les expos, mon nombril, lire...
Mes films préférés
Ouh, le guet apen ! Trop longue liste mais on peut citer: Thank you for smocking, Tout Tarantino, Lost in translation, Garden State, Tout Burton, Tout Miss Coppola ( bon, j'avoue, j'aime aussi le père !), A lot like love, James Bond, La couleur pourpre, l'associé du diable, Mes voisins les Yamada, Entretien avec un vampire, Les 10 commandements, La neuvième Porte, Rosemary's baby, ( bref, I love Polansky : c'est un super réalisateur !), Sissi ( ahh, Romy !), Frida, Robin des bois, CRAZY...bon, allez, j'arrêtes parce que sinon, on en a pour 3 ans !
Mes musiques préférées
Ouh, ben là aussi, pas facile de tout citer !! Beaucoup de rock: Smashing pumpkins, Led Zepp, Sex Pistols, Nirvana ( Ok, mais qui n'aime pas ??), Gainsbourg, Garbage...M, Rita Mitsouko, Louis armstrong ( Merci Papa, merci Maman !),Les scarabées, Queen...ça c'est pour les "classiques" ( j'en oublies beaucoup !!) et puis, il y a les autres : Mademoiselle K, The Hoosiers, Sean Lennon, Feist, The Ting Tings,...
Mes livres préférés
Non mais sans rire, qui décide des questions ? Bon, ben c'est parti: Les bébés de la consigne automatique, Au bonheur des Dames, Le portrait de Dorian Gray, Les cygnes sauvages, autobiographie d'une courgette, Flash, Un plat de porc aux bananes vertes,... je suis accro aux romans Japonais (La pierre et le sabre, la parfaite lumière, je veux devenir moine zen, le cheminot...). Sinon, je suis une junkie de la presse : Milk ( France et Japon), Crash, Pretty Style ( revue japonaise... so cute !! ), Marie Claire Idées, Country Living ( revue pour ménagère américaine vivant en pleine campagne... et oui, ça aussi j'assume !), Elle et Vogue ( France, Italie, Japon...),... Je suis accro aussi aux mangas : Tout Tsukasa Hojo ( cet homme est un Dieu !!), Tezuka, Gunnm, Naruto ( et oui, 5 ans d'âge mental la nana !)...