29 janvier 2012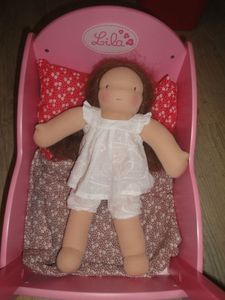 Un petit ensemble pour une poupée prénommée Lucille.
taille de l'enfant et du patron : 42 cm
pourquoi j'ai pris ce modèle : patron commandé il y a un an et pas encore réalisé
tissus utilisés et éventuellement leur provenance : coton blanc plumetis brodé
ce qui m'a posé problème : réaliser les fronces et les volants de manche dans de si petites dimensions
le truc à faire : le réaliser dans un tissu fleuri pour pouvoir varier les tenues
le truc à ne pas faire : aller trop vite pour les fronces
les modifications que j'ai apportées : /
le prochain sera sûrement :les déguisements pour mes deux enfants
pour voir d'autres photos et d'autres petits vêtements, c'est ici
04 janvier 2012
Ma première réalisation de l'année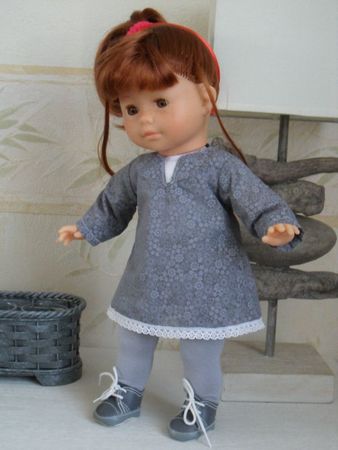 Taille de l'enfant et du patron : poupée COROLLE de 36 cm
Pourquoi j'ai pris ce modèle : besoin de vêtement
Tissus utilisés et éventuellement leur provenance : voile de coton imprimé de mon marché 1€
Ce qui m'a posé problème : //
Le truc à faire : Customiser
Le truc à ne pas faire : //
Les modifications que j'ai apportées : //
Le prochain sera sûrement : je ne sais pas encore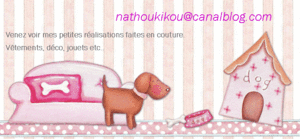 19 novembre 2011
Une petite tunique froncée et un bloomer pour une poupée de 30 cm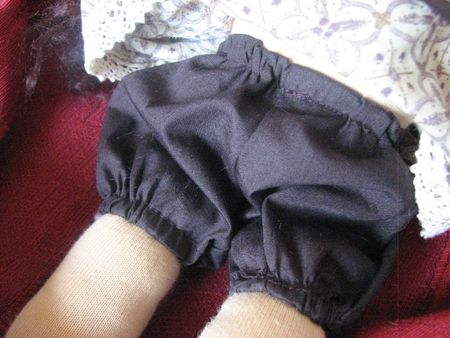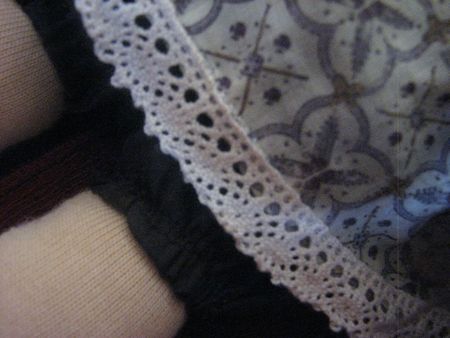 Ce n'est pas compliqué, mais ça demande beaucoup de minutie, c'est tout petit !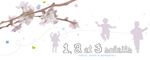 13 octobre 2011
Afin d'habiller Charlotte, la poupée de ma fille, pour cet hiver, j'ai décidé de lui coudre un petit manteau Alice.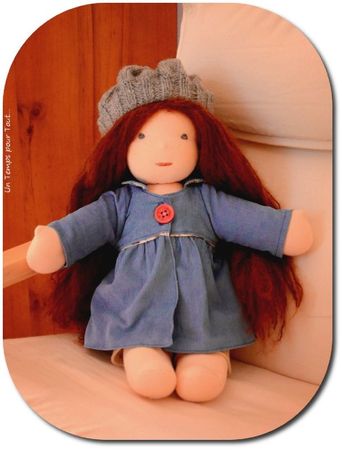 Je n'ai fait aucune modification, hormis la pose d'un passepoil.

07 octobre 2011

J'ai réalisé pour l'anniversaire de ma soeur une poupée. Mais comme je ne pouvais la lui offrir dévêtue, j'ai également réalisé quelques habits...

Une robe Antonine, en popeline écru et petite broderie anglaise ancienne.
Et une tunique Apolline en Liberty Mab, avec son bloomer en popeline.
Les petites ailes viennent du blog Happy Doll, c'est un patron offert par Nils et Happy to see you.
18 septembre 2011
Pour le retour de Charlotte comme poupée préférée... Quand je dis préférée, c'est peu de le dire, elle ne la quitte plus.
En fait c'est pas facile une vie de poupée quand on y regarde à plus près (un coup je t'habille, un coup je te coiffe, un coup je te deshabille, un coup je te dorlote, un coup je te promène...et tout ça avec le sourire!)
Bref, ma voisine à voulu participer à cet élan de tendresse retrouvée en faisant à Charlotte un ensemble manteau-bottes.
Patron "Alice" (qui tombe bien!!!)
18 août 2011
Trop "face" (traduire trop facile en langage 6 ans) de faire plaisir à ma petite demoiselle et la mettre de très bonne humeur dés le matin. Pour accompagner sa robe Sofia, Périne a trouvé à son réveil sa poupée Nina vêtue d'une nouvelle robe à pois.

Par contre, il devient urgent de coudre une petite culotte à la dite poupée. Y-a-t-il un patron Citronille qui en contient une? Merci pour vos expériences. Moi en tout cas en attendant je glisse le chauffe coeur pour les mamans dans mon panier.
La suite: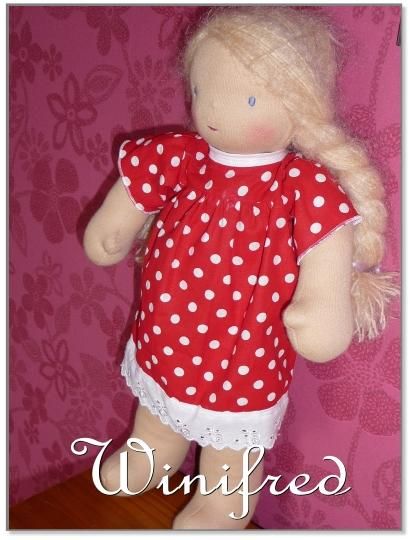 14 août 2011
Pour un bébé corolle de 36 cm j'ai réalisé deux tenue en taille 42cm.
Un pyjama Marjolaine :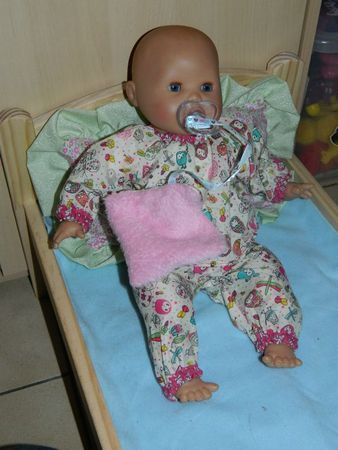 En liberty eliza's owl de chez shaukat et Biais Liberty Capel aux manches et chevilles.
Une tenue Gunila :
En liberty small susana d'ebay et velours parme de la droguerie ; J'ai ajouté un petit gilet sans manches.
Pas de difficultés pour ces tenues, j'ai légérement réajusté pour la taille du poupon...
Pour voir le porte bébé et la parure de lit assortie, c'est sur mon blog !

14 juillet 2011
pourquoi ce modèle : idéal pour la tenue estivale d'une poupée !
taille: grande poupée
Tissu: coton rose et Liberty Sarah secret garden.
Pour voir la version voile de coton et Liberty "Poppy and Daisy" ainsi que les vestes et chaussons de l'ensemble je vous invite chez moi !